Discover Sevillanas and experience how the Spanish party – juerga style!
YOU'RE INVITED TO: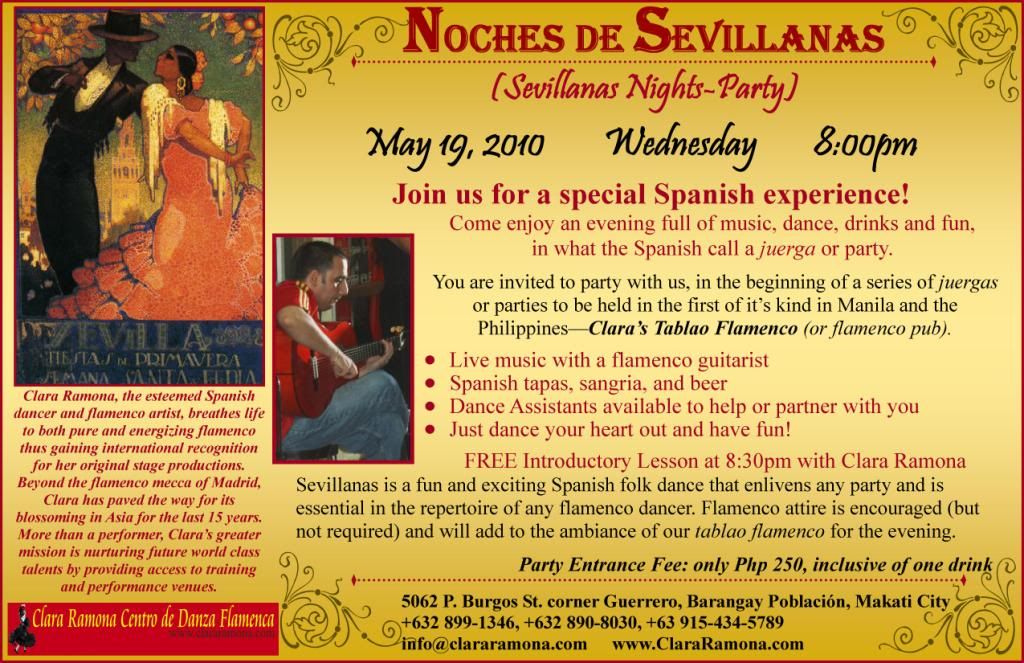 NOCHEs de Sevillanas
(Sevillanas Nights-Juerga Party)
May 19, 2010
Wednesday           8:00pm
Join us for a special Spanish experience!
Come enjoy an evening full of music, dance, drinks and fun, in what the Spanish call a juerga or flamenco party.
You are invited to party with us, in the beginning of a series of juergas or parties
to be held in the first of it's kind in Manila and the Philippines -
Clara's Tablao Flamenco (or flamenco pub).
Live music with a flamenco guitarist
Spanish tapas, sangria, and beer
Dance Assistants available to help or partner with you
Just dance your heart out and have fun!
If you have never danced the popular Spanish folk dance, Sevillanas,
no worries – join Clara Ramona for a
FREE Introductory Lesson at 8:30pm.
Sevillanas is a fun and exciting Spanish folk dance that enlivens any party and is essential in the repertoire of any flamenco dancer and for all who just love the art of flamenco. Sevillanas are danced in partners by children, teenagers and adults at nightclubs, parties, ferias, weddings, and many other social events in Spain, but most famously at the annual Feria de Abril in Sevilla.
Flamenco attire is encouraged (but not required) and will add to the ambiance of our tablao flamenco for the evening.
Party Entrance Fee: only Php 250, inclusive of one drink

Our Address:  CLARA RAMONA CENTRO DE DANZA FLAMENCA
5062 P. Burgos St. corner Guerrero
Barangay Poblacion, Makati City
Tel.:                 +632 899-1346
Tel/Fax:           +632 890-8030
Mobile:            +63 915-434-5789
Email:              info@clararamona.com
Website:          www.ClaraRamona.com
**************************************************************************
Clara Ramona, the esteemed Spanish dancer and flamenco artist, breathes life to both pure and energizing flamenco thus gaining international recognition for her original stage productions. Beyond the flamenco mecca of Madrid, Clara has paved the way for its blossoming in Asia for the last 15 years. More than a performer, Clara's greater mission is nurturing future world class talents by providing access to training and performance venues.