Archive for September 14, 2008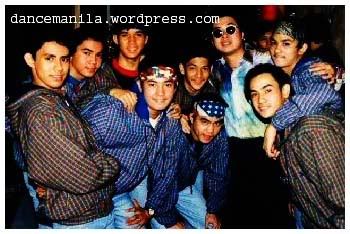 No disrespect to all the amazing crews out there but can you just go on talking about the dopest crews in the Philippines without even mentioning the Universal Motion Dancers. The UMD is one of the best dance crews out there that popularized dancing along with the likes of the Streetboys. Gotta give it up to these two crews. I'm not exagerrating when I say this but I think they have solidified their place in the Dance/Hip-Hop Industry in the Philippines. I can't find much of their old videos but I got this one from a tv show and it showcased almost a number of their dances. Here's a video of Philippine's Top Crews and in Battle mode! Check it man!
The music used are as follows: (c/o BruceWayne968)
1.) Stars by Simply Red
2.) Always
3.) Dying Inside
4.) Mmmmbop
5.) It's a Beautiful Life
6.) Tootsie Roll
7.) The Bomb
8.) On'e Samera Plus Jamais
9.) Friends
10.) Reneagde Master
11.) No Limits-remix
Yes! I almost forgot that we have something similar to MTV's America's Best Dance Crew and It was aired way back in ABS-CBN's "You Can Dance". The format is somewhat similar to what we see in ABDC and they too have judges who comments right after their performance. I have no Idea if they are going to have another season of You Can Dance or will we have something similar here in the Philippines. A number of crew's fought in this competition and I must say, they all are very unique in their own rights. Props to everyone who joined and compete with their hearts out. Though they're all amazing, only one can emerge on top and that is the group – Exquizyth. Exquizyth is a dance crew all the way from Mindanao (Gen.San?) and they're so blessed with talents.
Check out the dude in Blue with the mustache in the first few seconds when the group is being introduced (0:01 to 0:12). I can't stop laughing whenever I replay it. I love the 1:58 part in the video. I think it's an intro or something of "Sweet Child of Mine" and man it really fits (or hell do I lack the imagination and creativity to hook it up into the mix). Enjoy!!